Bowen Island Family Place
where families with young children
play, learn and grow together.
Many lasting friendships have started right here!
 Mon - Thurs, 9 - 12.
Drop in, it's free!
We provide tea & coffee for the big people and snacks for the littles.
Call the Family Place Coordinator at:
 604-947-2717
ext 2
or email
Family Place has several featured programs.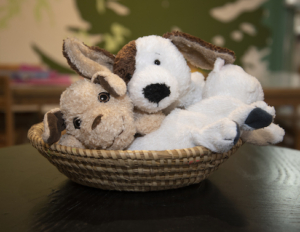 Note that we are closed on statutory holidays.

Enrolment
When you come to Family Place the first time we will ask you to fill in our enrolment form.
There are no fees at this time.
Family Place Parent Guide
Supervision
Children must be supervised by parents/caregivers at all times while attending our programs. If you need to leave the Family Place room, please ensure that another adult is responsible for your child in your absence. The program facilitators are not permitted to care for participant's children.
Out of respect for the children participating in our programs, these parenting behaviours will not be tolerated: physical punishment, isolation, yelling, shaming, blaming, excessive time outs.
We aim to make Family Place a relaxed and friendly atmosphere for everyone and we thank you for your support in this.
Snacks
Healthy contributions towards a potluck snack are welcome at Family Place. Some suggestions are fruit, vegetables, wholegrain crackers, cheese, muffins and tofu. Please note that Family Place and all Bowen Children's Centre programs are "nut-free."
Phones and Photos
Attending Family Place is your special time to connect with your child. To ensure that you spend quality time with your child, please limit cell phone use while attending the program.
Family Place has implemented a no-camera policy to protect the privacy of all participants; therefore, we ask that you please do not take photos of your child or others during the program.
On occasion, parents may be asked for signed consent for photos to be taken for a specific purpose for Family Place.
Health & Safety
Family Place adheres to the Vancouver Coastal Health guidelines for cleaning, toy washing, safety and health. To ensure the health and well-being of all who participate in our programs, please do not attend Family Place if either the participating adult or child has any of the following conditions:
fever;
diarrhea;
vomiting;
cough;
severe cold;
head lice;
conjunctivitis;
un-diagnosed rash; or
any other communicable disease
Once you and your child(ren) are free of symptoms for 24 hours (without medication to suppress symptoms) or and/or if you have doctor's approval, you and your child(ren) are welcome to participate again in the programs.