Rachel Phillips, an educator in the Maple room, is studying for her Infant Toddler Diploma at VIU. She is doing a practicum with Infants and Toddlers at Bowen Children's Centre, in both the Maple and Saplings rooms. She began her practicum in January 2021. This is her blog to make this learning visible for you, our families. Enjoy! Rachel welcomes comments and questions!
Week 5 (Final Week)
"Materials live in the world in multiple ways. They can evoke memories, narrate stories, invite actions, and communicate meanings. Materials and objects create meeting places. In early childhood education we gather around things to investigate, negotiate, converse, and share" (Kind, 2014, p. 865).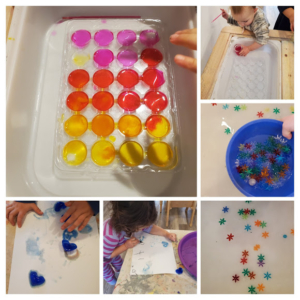 This inquiry into how water invites relationships amongst the children at BCC has been a visual display of the capabilities of the children as active participants in the creation of their own knowledge. That children's play is an approach to their own inquiries, a way to research the world. By providing diverse materials and experiences, educators create spaces for experimentation and transformation. (BC Early Framework, 2019, pg. 24)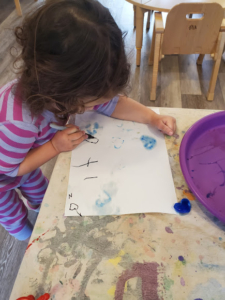 This week we looked at the purpose the material holds for the children and their construction of knowledge, specifically the role the water holds in this inquiry. In this context the role of the material is one that supports and encourages potential relationships, inviting connection with others, the material and the world. Water has entered our inquiry in many forms; puddles, snow, bubbles, ice... all creating a gathering space for sensory exploration and play. The intention of the sensory invitations of water play insights, excites, and invites action, it becomes a gathering space for knowledge socially being constructed in the relations of others.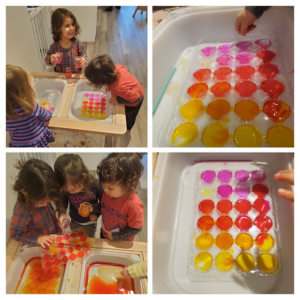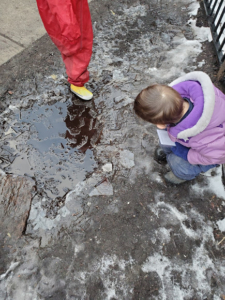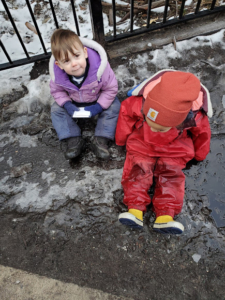 Multiple alliances have formed across these experiences in, with, and among the water. M.: "Look J. you can do it! We are working together to crush the ice and save it all up into the puddle. Look J. follow me, we can do it together."
This sentiment in the language rich with acceptance, encouragement, and support echo throughout the Maple and Saplings rooms. Z. says "we need more." handing each of her co-constructors jars of coloured water before retrieving her own. W. says "we did this, here is some for you." S. says "let's share!" her friends responding with an enthusiastic "yes, share!" E. handing over her ice to a friend and saying "these are all for you."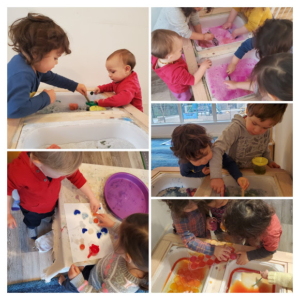 Our inquiry into how water play invites relationship has concluded, through these observations of the children engaging in water play, we can see children as capable of working together, collaborating, testing theories, sharing knowledge, and co-constructing new ideas. The water functions as a liaison amongst the children, enhancing strategies for active exploration, thinking and reasoning collectively, providing limitless possibilities.
References
British Columbia Early Learning Framework 2019 Edition, retrieved from: https://www2.gov.bc.ca/gov/content/education-training/early-learning/teach/early-learning-framework.