WELCOME to the Preschool at Bowen Children's Centre.  Since we started up in 1971, the Preschool (Bowen's first), has been ever evolving and represents the best of current early childhood research.   Our emphasis is on fun, play-oriented programs which are truly "Reggio" inspired, offering each child dynamic opportunities for self development and quality peer interactions.
Pictured below is an example of a child-led project, inspired by a winter walk through the woods, which led to discussions, discovery and investigations around the topic of icicles, finally culminating into an igloo made out of empty milk cartons.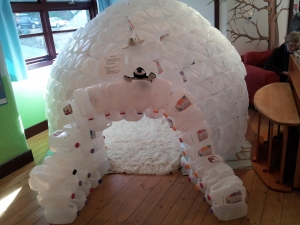 At BCC, we take great care of your child's social and emotional development.  The Safe Spaces program, a bullying prevention program for preschool aged children, is integral to all our preschool classes and aims to teach empathy, emotional literacy and positive problem-solving skills.
Preschool children take turns to be "Special Helper" for the day, responsibilities of which include providing snacks for the class to share, bringing an item of interest to show classmates at Circle Time, and sometimes helping with other small jobs in the classroom.  Over the years, "Special Helper Days" have become an event and tradition that the children very much look forward to.
Enrolment
We are looking forward to a wonderful year and are excited about getting better acquainted with you and your child/ren.
To register your child for Bowen Children's Centre Preschool, please fill in the Enrolment Form and send it to the Bowen Children's Centre together with the requisite fees. To send the completed forms in, please either:
email them to info@bowenchildrenscentre.ca; or
mail them to Bowen Children's Centre, 650 Carter Rd, Bowen Island, V0N 1G2; or
deliver them in person to a human being at BCC.
Please note that:
your child/ren's registration is not complete until the fees have been paid
all applications are processed in the order that they are received.
Registration for each forthcoming school year commences at the Open House in February, which will be announced on this website and in the Undercurrent newspaper. Registering in person at the Open House is the best way to ensure your child's spot in the Preschool, which fills up very quickly.
Should you have any questions regarding enrolment, please contact Ann Silberman at info@bowenchildrenscentre.ca or by phone at 604-947-9626.
Thank you for your interest in the Bowen Children's Centre Preschool.
Preschool Fees
The 2019-2020 Preschool year will commence after Labour Day, 2019. Classes will run for ten months until the end of June 2020, with a two week break over Christmas and a two week Spring Break in March. We offer three different classes as outlined below. Whichever class you choose, a $50 registration fee is due with all registrations.
Mon/Wed/Fri  8:30-11.30 AM
$

294/month
3 year old/4 year old split
Mon/Wed/Fri  12:30-3.30 PM
$

294.00

/month
4 year olds
Tues/Thurs 9 am-12 pm
$

195.00

/month
3 year olds
Payment
To complete your child's enrolment in the Bowen Children's Centre Preschool you'll need to set up fee payment by including the following with the enrolment package:
the $50 non-refundable registration fee; and
a deposit of one month's fees dated June 1 (of this current year); and
nine postdated cheques dated the first of each month from September through to May.
Bowen Children's Centre Preschool accepts payment by:
e-transfer to accounting@bowenchildrenscentre.ca; or
cheque or money order payable to the BCC Preschool and delivered in person or mailed to: Bowen Children's Centre, 650 Carter Rd, Bowen Island, V0N 1G2.
Please be sure to add your child/ren's name in the memo line on all forms of payment.
The Preschool issues tax receipts each February.

Financial Assistance
We are pleased to say that Bowen Children's Centre is able to offer financial assistance through the Gail Taylor Bursary Fund to those for whom the preschool fees may pose a hardship. Please alert us to your concern by contacting us directly at 604-947-9626 or mentioning the need for financial assistance in the Comments section of the registration form (please see Enrolment for further details on Preschool registration).
If you have any questions please call the Bowen Children's Center Administrator at 604-947-9626.
We're really looking forward to having your family at Bowen Children's Centre Preschool this fall.